The Club is the shortest of the 3 standing at 60cm tall. Weighing 2kg empty its ideal for beginners, but can be loaded up to 25kg making it challenging for the most experienced of lifters. The Club is suitable for single arm training, doubles training and for two handed movements.
The Torque is the halfway length between the club and mace. It stands at 80cm tall and weighs just under 2.5kg empty, and can be loaded up to 27.5kg. The extra 20cm long handle adds additional leverage making it a little more challenging to control than the club. The Torque is suitable for single arm training and two handed movements.
The Mace is the longest of the 3 standing at 109cm tall. It weighs 2.5kg empty but can be loaded up to 30kg (and possibly more). This makes the Maverick Mace suitable for beginners through to advanced. The extra length gives it even more leverage and is perfect for mace flows, single arm training and two handed movements.
The Weight Plate Loaded Adjustable Bamboo Club and Mace that Will Revolutionize Your Training
Strength Meets Sustainability: The Maverick Mace... Built of Bamboo
WHAT IS THE MAVERICK MACE?
The Maverick Mace is a set of adjustable weight plate loaded bamboo clubs and maces.
Inspired by the gada used by the Pehlwani wrestlers in India the Maverick Mace can be loaded with any 51mm weight plate.
Weighing 2.5 kg empty, it comes with an additional 0.5kg bamboo weight disk making the mace weigh 3kg in total, a jaw collar is also included.
The mace can also accommodate Olympic-style (51mm) weight plates and has been tested with a 30kg load, although it can support more if needed (additional Olympic style weight plates not included). Fractional weights can also be used for micro-loading.
This make it a very practical, versatile and cost effective tool to have in your training arsenal.
The mace combines the traditional design of the Indian gada, with a beautiful bamboo timber finish and the practicality and cost effectiveness of using weight plates to increase the load to your desired load.
Note: To keep the weight plates securely in place we recommend using one collar for every 8kg loaded onto the mace.
For example;
2kg-8kg = 1 collar
8kg-16kg = 2 collars
16kg-24 = 3 collars
Carefully crafted with precision and attention to detail, using high-quality, eco-friendly bamboo timber.
Built from sturdy, sustainable bamboo with a silk varnish for a sleek look and durable finish.
The handle features knurling and a comfortable sphere pommel allowing for a natural and comfortable grip, making it easier to hold when using heavier loads.
The laser engraved logo adds a touch of style making it a unique and visually appealing addition to your home gym.
Available in three sizes: the Club, Torque, and Mace, offering you the flexibility to choose between single-arm training, two-handed training, or doubles.
1 X COLLAR & BLOCK INCLUDED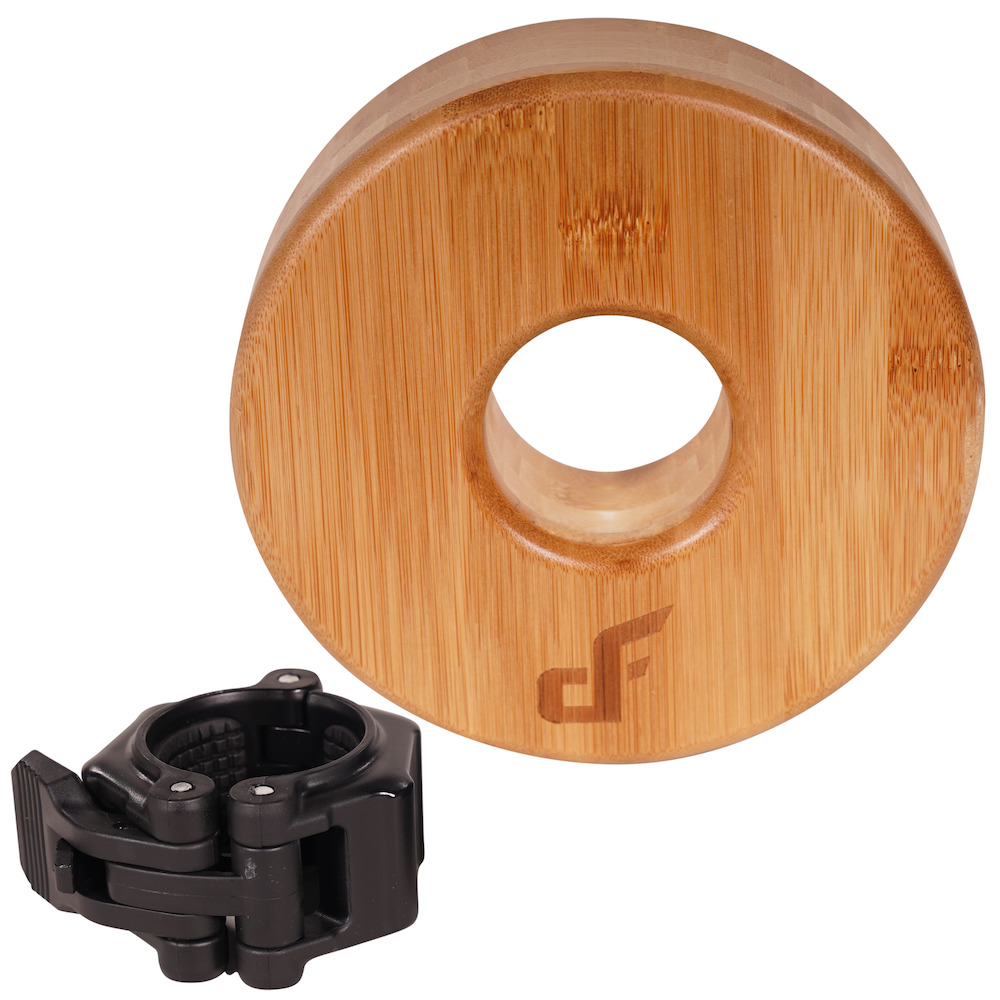 Comes with 1 x 0.5kg bamboo block and jaw collar allowing you to quickly increase or decrease the weight as required.
Adjustable in weight from 2.5kg to 30kg, allowing you to choose the perfect load for your workout.
FITS ANY 51MM (2IN) PLATE
Fits any 51mm (2in) weight plate and secures in place with a jaw lock collar, making it practical, affordable, and incredibly fast-loading.
The Maverick Mace is crafted from bamboo, providing exceptional strength, durability, and sustainability.
Bamboo is the Worlds fastest growing plant and grows 15 times faster than other lumbar like pine. Bamboo is easy to grow, renewable and requires zero chemicals and pesticides.
It's also incredibly strong and durable with;
A higher tensile strength than many alloys of steel.
A higher compressive strength than many mixtures of concrete.
And, a higher strength-to-weight ratio than graphite.
David P.
Verified owner
I really wanted an adjustable club for 2 handed training. I live in NZ and wanted an Adex style club. But the shipping was way too prohibitive. So I started looking at the Maverick. The service from Dangerously Fit was excellent. They answered via WhatsApp every question I had quickly and honestly.
The shipping from QLD to NZ was super efficient at a really reasonable price and everything thing arrived in good condition. I've been training with it now for 3 months. It's brilliant. Changing weights is easy and efficient, they even give you a lock. More can be purchased from DF at a low rate for when working with extra weight. You will need to do your own research to find Olympic sized plates that don't exceed 15cm (6 inches) in diameter for ultimate comfort when working shield casts and other behind the back moves. My only criticism (and it's minor) is of the handle. I have medium sized hands and they just fit on the handle. If you have massive hands and are working 2 handed, the bottom hand will grab the pommel like you would Indian Clubs (pinkie and ring finger around the ball) Not really a problem, just something to be aware of. Also there is a finish on the bamboo that makes it a little slippery. Under heavy load on a hot day you become quite aware of this. However, the handle does have grooves cut into it for grip. Plus I've owned a set of Dangerously Fit 1kg Indian Clubs for over a year now and the finish on those was the same. Now however some of the finish has been replaced by the natural oils from my hand and it's way better. I'm hoping the same will happen with my Maverick Club. Plus if it is slippery and hard to hold hopefully that just doubles the benefit for your grip strength, lol.
All up I think Dangerously Fit are putting out great products and this in no exception. I searched world wide taking into consideration design, price, shipping costs, length and diameter of all adjustable clubs and I would happily recommend the Maverick to anyone looking for a quality, affordable adjustable club.
1 month ago
Scott D.
Verified owner
The clubs arrived quickly and I'm really impressed with the quality. They are like pieces of art and far exceeded my expectations.
1 month ago
Jake Ford
Verified owner
Beautifully made and feels really great to swing, I love how practical it is. ⭐️⭐️⭐️⭐️⭐️
2 months ago
Terry Harris
Verified owner
Great service and delivery.Very good product to use.New Zealand.
3 months ago
Anonymous
Verified owner
easy on the hands and swings well
3 months ago
Sam Wiseman
Verified owner
Fantastic bit of kit! It adds a new dimension to my workouts, and is also fun to swing around. One problem I have is the lack of information on additional weight plates for it. The pictures show the mace with plates added, bit I could only find ones much wider than those. Information on additional plates of appropriate size would be useful.
4 months ago
Thomas Clausen
Verified owner
beautifully made, great to use & look great
4 months ago
Janet B.
Verified owner
I love the length and adaptability of this mace. The lighter weight allows me to now use it as part of my warm up. I can now start lighter and build, as I get warmer which makes me feel more confident as I progress to heavier weights. And trust me you can crank this adjustable mace up pretty quickly with just a few small plates. This is also great for changing it up for different movements.
Additionally, I've found since using it helps me keep good form. I wish these babies had been around when I first started using maces. Thanks for making them available #dangerouslyfit
4 months ago
Paul miller
Verified owner
The maverick mace has a great feel, it's well balanced and makes increasing a decreasing loads easy.
4 months ago