Circular Weight Training with Indian Clubs Strengthen the Shoulders, Elbows & Wrists in a Way Not Possible with Traditional Linear Strength Training. Club Swinging Helps Develop Strength, Mobility & Stability Which in Turn Builds Durability (Your Body's Resilience to Injury)
Authentic Victorian Style Indian Clubs Machine Turned from High Quality Bamboo Timber with a Silk Varnish Finish to Enhance and Protect the Wood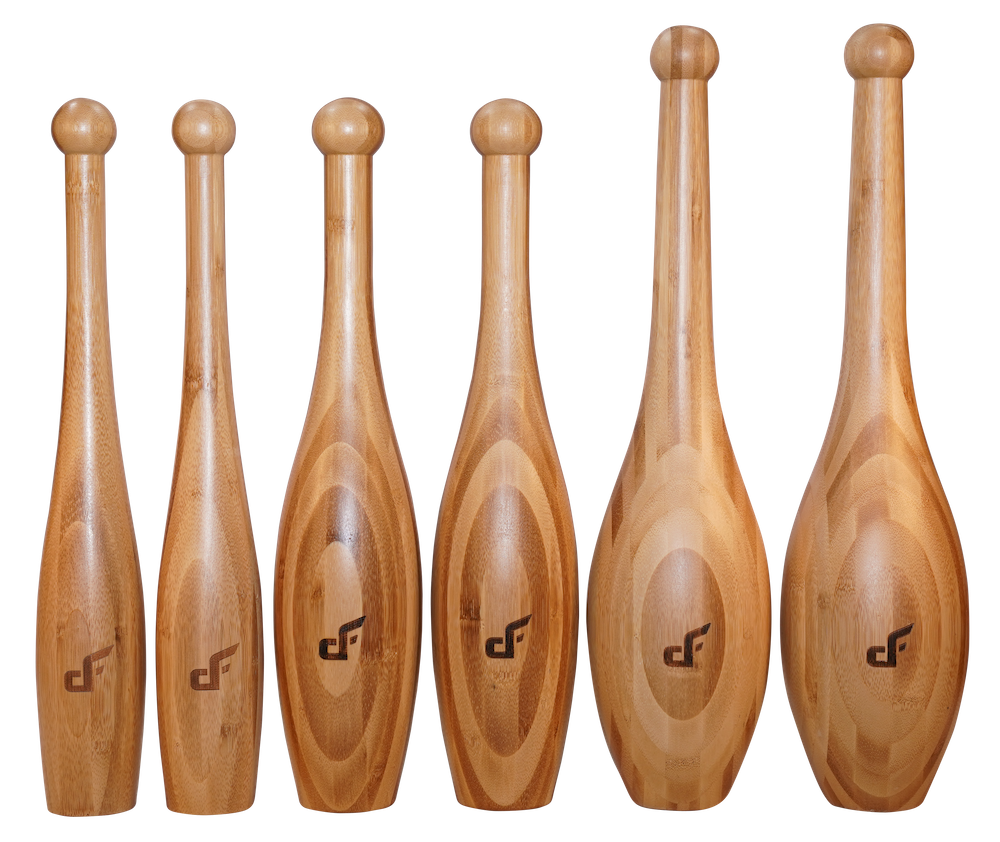 BENEFITS OF INDIAN CLUB TRAINING
Indian clubs are great for improving mobility and resilience to injury in the shoulders, elbows and wrists.
Everyone from the general fitness enthusiast to elite athletes can benefit from regular club swinging.
They fit very nicely into warm ups, recovery training, movement prep and skills training.
The clubs themselves are lightweight, portable, can be used at home or on the go… plus they're heaps of fun!
WHAT SIZE SHOULD I START WITH?
Indian clubs are not heavy, they're fast. A skipping rope isn't heavy but they make your feet quick, same with Indian clubs… they're not heavy but make your hands fast.
If you've never used Indian clubs before we recommend starting light with a pair of 0.5kg or 1kg clubs.
The centrifugal force makes the clubs feel heavier especially when swung through different planes of motion.
Work on the technique first and groove the path before moving onto heavier clubs once you're proficient.

INDIAN CLUBS VS STEEL CLUBS​
Although Indian clubs look similar to steel clubs, they are very different training tools.
The much lighter Indian clubs are made from wood or plastic and typically weigh between 0.25kg-1.5kg.
The focus of Indian club training is on mobility, fluidity and speed making them excellent for rehab, prehab, warm ups and improving shoulder mobility.
Steel clubs are much heavier and as the name implies, made of steel.
They weigh anywhere from 2kg-20kg and are a strength conditioning tool excellent for developing shoulder strength, grip strength, core strength and can be used for conditioning much like any other free weight.
If your goal is rehab/prehab and to improve mobility, choose Indian clubs.
If your goal is to develop strength, choose steel clubs.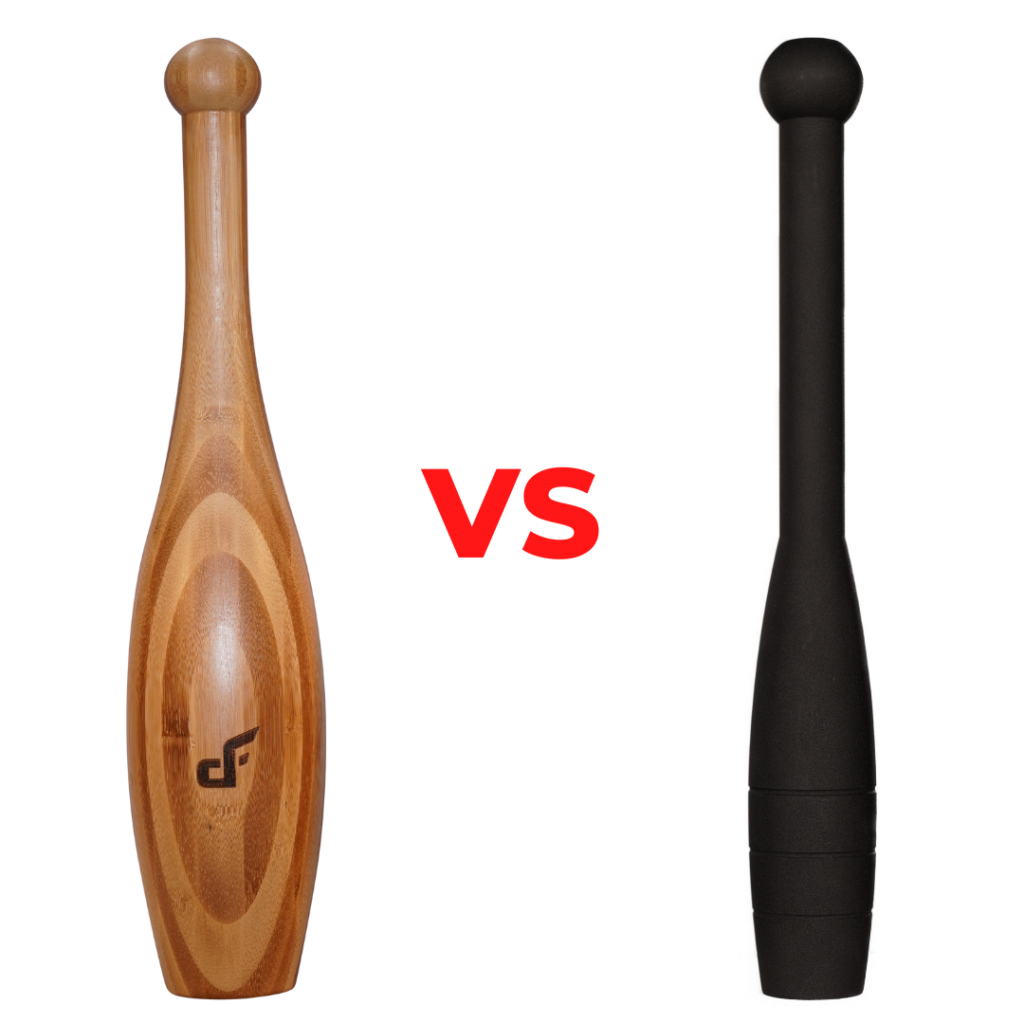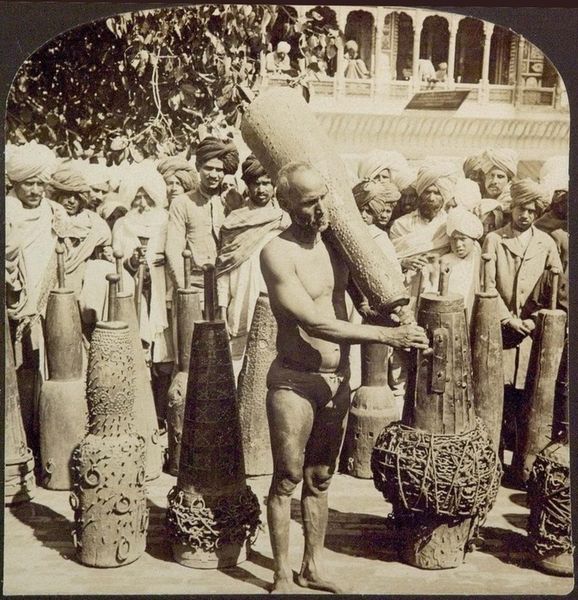 HISTORY OF INDIAN CLUB TRAINING
As the name implies, Indian clubs originated in India where they have been used for thousands of years.
They were originally used as a weapon, but in the 13th century it's thought they were being used as a form of exercise.
During the 17th century the British colonised India and observed the local Indian wrestlers training with clubs.
The practice of club swinging was adopted by the British military and it quickly spread throughout the rest of Europe, then later the US.
In recent years Indian clubs have made a comeback, especially with athletes and fitness enthusiasts that require superior circular shoulder strength, grip strength and greater core strength.
There are many different types of wood used to make Indian clubs and the wood used largely depends on where the club is manufactured.
We chose to make our Indian clubs from bamboo as it's strong, durable, and sustainable.
Bamboo is the Worlds fastest growing plant and grows 15 times faster than other lumbar like pine. Bamboo is easy to grow, renewable and requires zero chemicals and pesticides.
It's also incredibly strong and durable with;
A higher tensile strength than many alloys of steel.
A higher compressive strength than many mixtures of concrete.
And, a higher strength-to-weight ratio than graphite.
FREQUENTLY ASKED QUESTIONS
INDIAN CLUBS PRODUCT REVIEWS​
Mark Adams
Verified owner
My Indian clubs are awesome! They feel great, and I've noticed a big improvement in shoulder strength and mobility.
2 months ago
Elliot
Verified owner
Excellent quality. Gorgeous to look at and solid to hold.
2 months ago
Luke
Verified owner
Great product, lovely finish
2 months ago
Anonymous
Verified owner
really nicely made – feels great in the hand
3 months ago
Thomas Clausen
Verified owner
nice weight, well made, great to use, look great
4 months ago
Jessamyn
Verified owner
I'm loving these new clubs, they're perfectly balanced and feel great in the hands. Highly recommended!
6 months ago
Gurpreet
Verified owner
Very happy, far exceeded my expectations
7 months ago
Bradley
Verified owner
Look and feel great, quality product – very happy!
7 months ago
George
Verified owner
I love these clubs, they look awesome and swing beautifully.
8 months ago
Chris
Verified owner
Brilliant. Well weighted and a joy to use.
11 months ago
Peter
Verified owner
Really good feel, balance and quality. The delivery time to regional NSW was exceptional. Highly recommend these for anyone who wants to do club swinging exercises and workouts.
12 months ago
Anonymous
Verified owner
There was a bit of a delivery delay at customs upon arrival in New Zealand because the invoice was not included with the shipment. But that was sent quickly. The Indian clubs are great. Great for a warm up prior to a work out or for loosening the shoulders after several hours of computer work. And they much more aesthetically pleasing than the plastic clubs on Amazon.
1 year ago
Guy Green
Verified owner
Just to let you know – these arrived about 10 days ago and, like all your clubs, they're great. Really high quality and nicely put together. I use them to warm up and loosen up before doing exercising with kettlebells or heavier clubs, and they're perfect for that. Thanks!
1 year ago
Jason Davies
Verified owner
Great products, always good and fast service.
1 year ago
Bill
Verified owner
Solid pair of clubs, am using them for warmups prior to kettlebell sessions at the moment, they work well. Constructed from laminated bamboo.
1 year ago
Kirren
Verified owner
These are so nice in the hand. Great work.
1 year ago
Michael Nguyen
Verified owner
Got these as soon as they were available – great for warmups/Shoulder rehab and co-ordination drills.
1 year ago