"We Promise Results So Good You Get a 30 Day Unconditional Money Back Guarantee… …So You Have Everything to Gain and Nothing to Lose Except the Unwanted Kilos!"
If You are Fed up with Impossible Diets, Boring Gym Workouts or Fitness Fads that Don't Work… Take a minute to Check out this page and See some of the Amazing Results our Members are Getting…
From: Dan Clay
Dangerously Fit
Dear Friend,
If you want to get into shape FAST and stay in shape… then this could be the most important page you'll ever read.
My name is Dan Clay … I own Dangerously Fit Boot Camp Sydney's most in-demand and fun fitness program… for the last 9 years I've been helping people just like you to get into the best shape of their lives.
Our workouts are quick, fun, inexpensive, extremely effective and only take about 45-minutes… and we'll have you looking amazing in no time… no matter what kind of shape you're in now.
With our workouts you will… 

  Have fun


  Feel great


  Lose Fat


  Tone Up


  Flatten your stomach


  And so much more
It's important to me that our campers get results fast and have a lot of fun in the process… so we vary the workouts on a regular basis to keep things fun and keep your body from getting stagnant (which is what can happen if you do the same old workout routine over and over)
And our workouts are extremely affordable so everyone can enjoy them.
There's absolutely no reason for the ridiculously high cost of hiring a personal trainer when you can get BETTER results in half the time in a more FUN environment at a fraction of the cost… it's really that simple.
Dangerously Fit Boot Camp Will Quickly Tone Your Muscles, Flatten Your Stomach, Shed Inches From Your Hips & Thighs & Make You Feel Like Ten Years Younger Guaranteed!
Check out the Sidebar and See Some of The Results our Sydney Bootcamp Clients are Getting.
As you can see above, my Sydney Dangerously Fit Boot Camp gets real and lasting fat loss results for real people JUST LIKE YOU…
HOWEVER… If you're just looking to join a fitness bootcamp for a quick fix … or if you're not 100% committed to getting into shape… then our boot camp program isn't for you… it's ONLY for action takers… PERIOD.
But… if you're committed to having the kind of body you deserve… and living the kind of life you KNOW you deserve deep down inside… then I'm willing to help you get there as FAST as possible.
If this sounds like you… then here's what you need to do …
First, understand that we are only accepting a limited number of campers at this time because in all honesty there's only so many people we can help without turning into some giant corporation… which I have no interest in doing…
I want to make sure each camper gets all the personalized attention and instruction they'll need to reach their weight loss goals… so the bottom line is there are only so many people I can work with at a time. As of this writing we still have a few slots left.
When you register for our boot camp here's what you get…
 Quick and fun 45-minute high-intensity boot camp workouts.
 Our Dangerously Fit Boot Camp Optimum Nutrition Plan designed by Sydney's leading nutritionist… which will show you what to eat, how much to eat and when to eat it… this nutrition plan alone will practically help the fat fall right off of your body.
 Unlimited online access to our trainers and nutritionist.
 Access to ALL of our Dangerously Fit Boot Camp times and locations We're currently running bootcamps in Sydney's Eastern Suburbs, CBD and the Inner West.
 A workout program you can do on the days you can't make your bootcamp workout… these short and fun workouts will supercharge your metabolism and turn your body into a fat burning machine.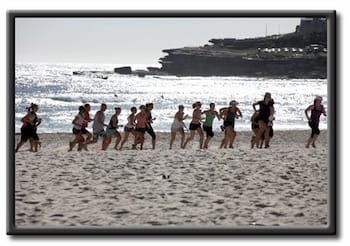 If you were to work with myself or one of my personal trainers you would pay between $850-$1050 per month. Even if you worked with an average personal trainer you would easily pay $500 per month (for average results).
But the great thing about fitness boot camps is you'll get even better results than personal training… at a fraction of the cost. Instead, your investment to take part in my boot camp program is as little as $97 per month!
Simply click the register now button to get your 1-week trial for just $1… and because you can train at ANY of our Sydney locations you never need to worry about missing a workout.
It's more affordable than a personal trainer and much more exciting than the gym… and I can say with confidence it's the most effective workout program known to man.
And if you're not happy with the results… I don't want your money… just check out my ironclad 30 Day Money-Back guarantee…
At this moment you have 2 options… You can leave this website and do absolutely nothing… you can make excuses and put off getting in shape to another day that will never come.
Or…
You can register today and lose your fat, tone your muscle and get the kind of body you've always wanted.
Click on the button below and follow our simple 3 step sign up and you'll get full access to all times and locations, and if for any reason bootcamp is not for you… just let us know during your one-week trial and we'll cancel your membership no worries!
Or, just call 1300 557 735 to learn more today.
You're an intelligent person and I trust you'll make the right decision.
Yours in health,


Dan Clay
Dangerously Fit
Sydney, N.S.W
P.S. – Lifelong fitness and weight loss won't happen overnight…but it will happen if you commit to making it happen with Dangerously Fit.
P.P.S. – You WILL be satisfied with my Dangerously Fit Boot Camp GUARANTEED! If you're not happy, we'll give you your money back…. No questions and no hard feelings… if you don't get the body you've always wanted then I don't want your money… it's that simple.
P.P.P.S. – Don't forget… there are only a few spaces left… so register now to secure your spot.
The Dangerously Fit Academy offer cutting edge education in the area of unconventional training, functional fitness and conditioning using the most effective principles and training tools. Our online platform includes; videos, articles, courses, workshops and certifications utilising alternative strength training tools like the kettlebell, Bulgarian bag, power bag, steel mace, steel club, battle rope, suspension straps and more!