"I hope this goes well!"
It's May 23rd 2006, the final day of my first ever 6-week challenge and I have over 200 people waiting in line to be weighed and measured by my team of 7 trainers.
I'm nervous as hell, sure I've used this program before with my 1-1 clients, but never with this many people all at one time.
I look down a huge line of hundreds of people, a wall of faces waiting with anticipation and expectation.
How would my 6-week program go in a challenge where people are left to follow the program by themselves?
I'd never tried it… but I was about to find out!
In all my life I've never felt so accountable!
My mind starts racing and I suddenly get a sick feeling in my stomach… like someone just sucker punched me.
"WHAT IT if no-one get's results, WHAT IF people put weight on, WHAT IF everyone is unhappy with me, WHAT IF, WHAT IF….
S#*t… I'm going to get lynched!"
It was the day of reckoning… week 6 of the 6-week body challenge… the moment when I find out if all my carefully laid out plans would pay off.
I had spent years preparing for this moment, working along side some of the top weight loss experts in the world and personally training thousands of clients.
I knew for my members to lose 1-2 kilos of body fat every week there needed to be 3 key ingredients, a recipe that if followed carefully would consistently produce powerful results.
#1. When you're overseeing hundreds of clients you can't overcomplicate things, so the nutrition plan had to be simple and easy to follow.
#2. The training program had to suit all fitness levels, from the beginner to the gym enthusiast, no matter what their fitness levels were the workouts had to challenge everyone.
3. With 12 personal trainers working for me overseeing 82 workouts per week, the training system had to be replicable so my clients would lose 1-2 kilos of unwanted body fat every week… for 6 weeks.
So I examined my existing program, identified the five biggest weight loss factors that would have the biggest impact on people's results, and designed a program that would make weight loss a systematic process… that if followed would work 100% of the time guaranteed.
You might be thinking if weight loss is so simple then why so many diets, fitness programs, weight loss pills and gimmicky fitness gadgets you see on the shopping channel?
Well… although weight loss is very simple, getting people to change their mindset, lifestyle habits and creating new healthy disciplines isn't.
Here's What Some of my Clients Have To Say…
Now, if you're looking for a quick fix or something you can buy now to alleviate some guilt that you're feeling then please do not join this program – this won't be for you.
We're not one of those fitness programs you buy online and never use, we expect you to follow the system and have a team of experts on hand to help you every step of the way.
If you're fully committed to having the kind of body you desire… and living the kind of life you KNOW deep down inside you deserve… then I'll help you get there as QUICKLY as possible.
You Have Nothing to Lose Except the Unwanted Kilo's!
And I'm so sure you're going to love this program I'm offering you my 100% Money Back Guarantee!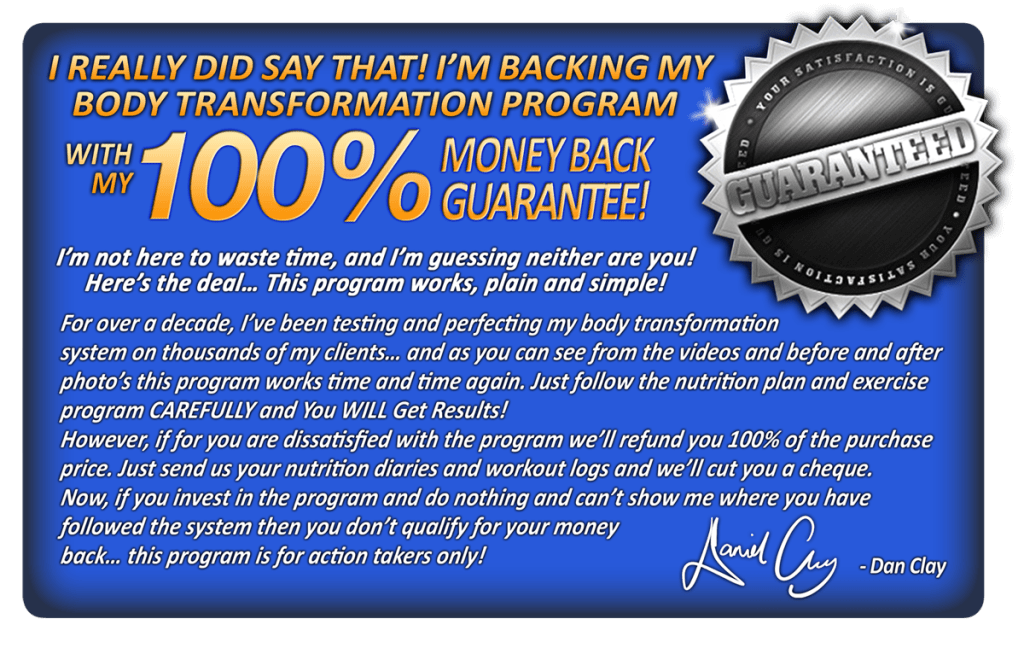 Here's What You Get When You Register…
Delicious tasting done-for-you recipes, we take away the guesswork and design your meals for you.
Exciting easy to follow nutrition plans designed by our team of expert nutritionists which will show you what to eat, how much to eat and when to eat it.
Say goodbye to expensive gym memberships with our tried and tested fitness programs you can do at home or in your local park that work in the real world for real people, people just like you!
Full access to our workout video library with 100's of different challenging exercises specifically crafted to melt away stubborn body fat.

Daily lessons designed to change your mindset so you can break through limiting beliefs and finally crush the sabotaging bad habits that have been holding you back.

Daily support from me and my body transformation experts, we're there to help you every step of the way!
Learn the lifestyle secrets to staying in shape for life.
Click The Button Below To Register Your Interest..
Wishing you the best of health,

Dan Clay
Your Online Personal Trainer & Health Coach
P.S – There are only a limited amount of people we can coach at any one time, if you click the 'Buy Now' button below and don't get taken to the shopping cart page it's because we're full. Please come back again later.
P.P.S. – Just think… 42 days on from now you'll be 6 weeks older and maybe a few kilos heavier, OR you can quickly shed 6-9 kilos, feel great about yourself and have loads more energy… It's up to You!
Get the body you desire… and start living the kind of life you KNOW deep down inside you deserve.