"How Does This 

Outdoor Bondi Boot Camp 

Get You to Lose Weight 

& Tone Your Body So You Can Fit Back into Your Skinny Jeans

… Without Strict Diets or Boring Gym Workouts?
Check Out Our 

$1 One Week Trial 

& See For Yourself!"
Outdoor Group Fitness in Bondi Beach 6 Days Per Week!

[xyz-ihs snippet="Sales-Video"]
From: Dan Clay
Dangerously Fit
Outdoor Fitness Bondi Beach
1800 791 446
07:37am Thursday, October 31st
Hi I'm Dan Clay, owner of Dangerously Fit Boot Camp – Sydney's most sought after fitness program.
 Have you ever tried working out, only never to see any results?
 Are you one of the many people that have spent hours slogging away in a Bondi Beach gym or personal training studio without success?
Unfortunately You're One Of Many!
The truth is many Bondi Beach residents struggle to lose weight because they try to do it alone without the knowledge and guidance from experts.
If your car broke down would you fix it yourself? No of course not – you'd hire a mechanic. 
If your roof needed tiling would you jump up there yourself and start laying tiles? No way you'd hire a roofer.

Training is no different, there's a right way and a wrong way – why do things the hard way when you can get results so much faster and easier.
Have you tried hiring an expensive personal trainer but didn't get the support or results you wanted, or maybe you've joined a gym only to soon get bored of doing the same workouts over and over again.
Hopefully This Hasn't Happened To You.
You can be assured that our boot camp fitness instructors are the best out there. I run a team of 11 Bondi personal trainers and I only pick the best to help run my fitness boot camps.
We have an in house nutritionist to supply you with a nutritional program and a free membership site where you can ask us questions or lean on us for support and accountability.

The goal of our Bondi Beach boot camp is for you to lose weight quickly, so you can actually see the results from your work and start feeling great about yourself and your new body.
[xyz-ihs snippet="004BeforeAfterAll6″][xyz-ihs snippet="003RegisterNowGold"]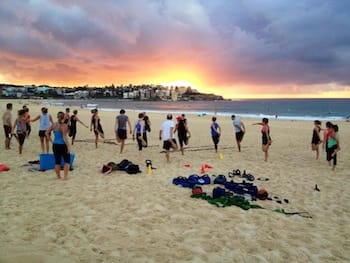 Why workout indoors in a big unfriendly, intimidating chain gym when you can be training outdoors on Sydney's beautiful Bondi Beach…
…watching the sun come up and the waves roll in – there's no better way to start the day!
And the great thing about our Bondi Beach boot camp is that it's affordable, high energy and heaps of fun.
I'm so confident that you'll love our quick, highly effective, no-nonsense 45-minute boot camp workouts that I'm offering you a 100% money back guarantee. 
Take Control of Your Body!
Claim Your Spot In The Dangerously Fit Bondi Boot Camp!
Please Remember, Spaces Are Limited.
Click The 'Register Now' Button To Ensure Your Place.
[xyz-ihs snippet="003RegisterNowGold"]
Wishing you the best of health


Dan Clay
Dangerously Fit
Group Fitness Bondi,
Sydney, 2026
Where to find our Bondi Bootcamp…
 We train on the sand in front of Bondi skate park Monday at 7pm. Tuesday, Wednesday, Thursday at 6.00am and Saturday at 7am.
 We train on the grass in front of Ravesis Wednesday evening at 7pm.
 Yoga: South Bondi on the concrete at 6am. Bring a mat or beach towel.