"How Does This Frenchs Forest Personal Trainer Help His Clients Lose 5 Kilos of Ugly Fat in 5 Weeks Or Less Without Boring Cardio Workouts Or Strict Diets?"
Finally You Can Say Good-Bye to Your Soft Out of Shape Body and Fit Back into Your Skinny Jeans!
Fair Warning… Due to the killer results Dangerously Fit clients are getting our Frenchs Forest personal training programs are in very high demand….
…Therefore we can't guarantee your spot unless you register today.
How Sick And Tired Are You Of Struggling With…
 Miserable strict diets that don't work and are impossible to stick to.

 Feeling bloated, flabby and unattractive.

 Settling with a body that you just aren't happy with.

 Long boring cardio workouts.

 Having no-one there to motivate and push you.

 Large intimidating franchise gyms that want to lock you into long term contracts with pushy sales people.
My name is Dan Clay and for the last 12 years I've been helping people just like you get into great shape with a fitness formula that works time and time again.
I've worked with over 4903 clients and know exactly what it takes to get you long lasting results without fad diets or boring gym workouts.
The Truth is Weight Loss isn't Rocket Science
All you need is a clean diet and some good old-fashioned hard work in an environment that's fun and motivating and bingo!
That's why my Frenchs Forest Personal Training program is perfect for you.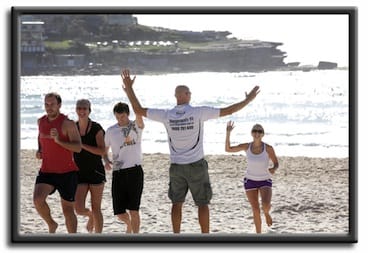 Here's what you get when you register…
 You can train at any of our Sydney group personal training locations which run 6 days a week, our quick, effective high energy 45 minute workouts will have you looking amazing in no time.

 Our optimum nutrition plan that was designed by one of Sydney's leading nutritionists will teach you what to eat, how much to eat and when to eat it.

 Access to the Dangerously Fit membership site where you can ask us our trainers and nutritionist any questions you have.

 A $1 two week trial to test drive my Frenchs Forest personal training program
What Most Frenchs Forest Personal Trainers Don't Want You to Know…
Most Frenchs Forest Personal Trainers charge between $75-$90 per session… with the old outdated 1-1 model. And you might need to book 3, 4 or even 5 sessions per week to achieve your goals.
This can get very expensive, or may even be to much for your budget.
The Dangerously Fit group personal training system is so effective that you can start our program with 2-3 sessions per week and start seeing results right away…
And because you're training in a group it's much more affordable, so you pay a fraction of the cost for even better results!
Plus… you get the support and accountability from other like-minded people that will keep you motivated and push you to the next level.
** Special Offer – Numbers Strictly Limited!!! **
$1 One Week Trial To All Times And Locations
And if you're not happy with Dangerously Fit Group fitness Frenchs Forest, I don't want you're money… …Check out my 30 day no questions asked money back guarantee…
Wishing you good health,


Dan Clay
Dangerously Fit Personal Training
P.S. Would you like to become an internationally recognised personal trainer? Click here to view our personal training qualification to find out more!
P.P.S. If you stick with the program you WILL get results, no matter where you're at now.

P.P.S. Here's what you need to do right now – Just call 1800 791 446 or click here to register for your $1 two week trial.
P.P.P.S. Remember we're extremely busy right now so unless you register TODAY we can't guarantee your spot, in fact we currently only have 3 spots still available.
Please note – Sometimes I'm busy getting other Frenchs Forest residents into killer shape, so if I don't pick up your call right away please leave a message and I'll call you back within a few hours.