Hope you had a great weekend, luckily we had a break in the unusually bad weather for the Dangerously Fit boat party and 6 Week Body challenge final.
Warm sunny weather is set to resume tomorrow and remember the clocks go backward on 3rd April, so sunrises will be back soon.
This weekend is the Easter holidays… don't let all the hard work and discipline go to waste.
There are always holidays, celebrations and things that will get in the way, it's up to you to stay focused, disciplined and continue striving towards your goals
And, if you need an extra kick-start after Easter we'll be running another 6 Week Body Challenge in April.
6 Week Body Challenge Winners
Congratulations to our 6 Week Body female winner Trina. Trina lost 7.4 kilos and 10% of her bodyweight in just 6 weeks!
Watch this Video
And congratulations to our 6 Week Body male winner Tom. Tom lost 9 kilos which was 9.6% of his bodyweight… Great work guys!
Watch this Video
If you would like to reserve your spot for the upcoming Autumn 6 Week Body Challenge email [email protected]. The program is FREE to all members on our 3-month program or $497 to non-members.
And well done to the white team for winning the team event.
After trailing the Reds and Blues by 1 point, the whites won the team relay… Then went on to beat the blues and reds in a tug-of-war off.
Awesome finish to a fantastic challenge, thank you everyone for being part of it.
Spartan Race
A note from Michael our Spartan team captain…
What better way to finish off the 6 week body by competing in this year's Spartan race, Saturday April 2nd.
We have organized a team this year to compete in the 15km run (should be a walk in the park) and so far we have 10 people racing.
If you would like to join our team use the code below and get a 15% discount…
Team name:  Dangerously Fit
Discount code:  DF16 (15% discount)
Cheers Guys
Easter Timetable


There will be no class on Good Friday 25th March and Easter Monday 28th March however classes will run as per usual timetables on Saturday 26th March.
City to Surf
It's that time of the year again when all the running events start, we have 3 events coming up over the coming months that we'll be putting on specialised running programs for.
If you're taking part in the City To Surf, Half Marathon or Spartan Race – let us know and we'll put name down for our special training programs (numbers limited). Just email  [email protected] to secure your spot.
DF Photo Gallery
The DF Crew at the Boat Party
Bondi Boxing
The Coogee Crew
The Domain Crew
Yep that's right!
The Rushcutters Crew
The 6 Week Body Crew at the Cronulla Sand Dunes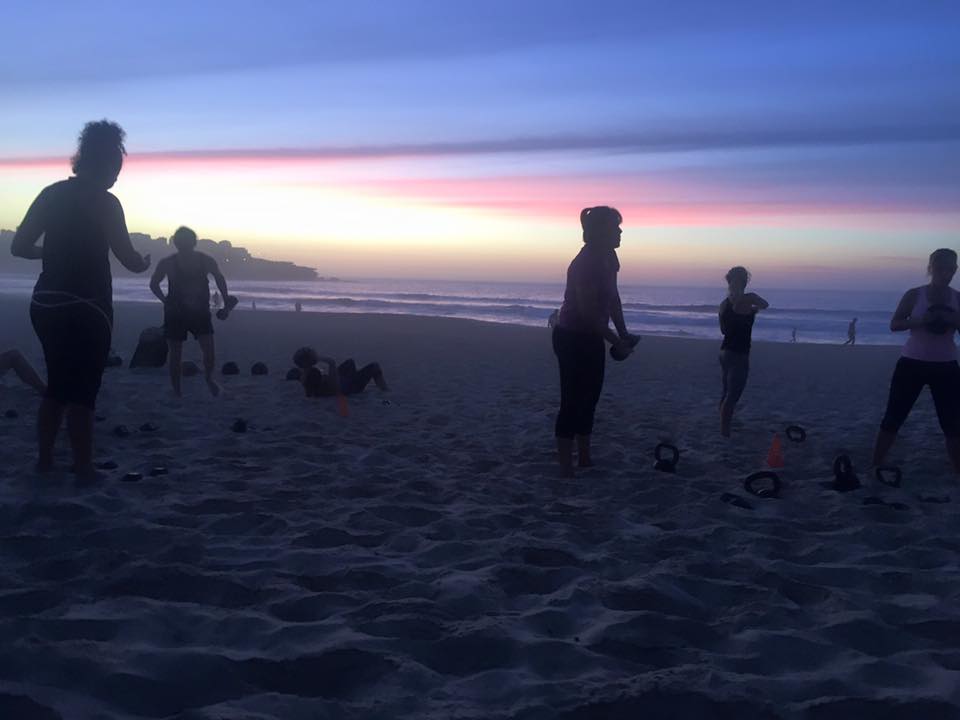 Bondi Sunrise
Dangerously Fit T-shirt for Sale
Dangerously Fit T-shirts are now for sale, choose your color;
White, Black, Navy, Red, Charcoal, Pink, Sky Blue, Chocolate, Royal Blue, Emerald Green, Purple, Hot Pink
And your size;
Male from S to XXL, Female from 8 to 16
Price : $29.99

Referrals
Lastly…. a big thank you to everyone that referred a friend to Dangerously Fit.
We rely on word of mouth and appreciate you helping us spread the word.
Remember, if you refer a friend to Dangerously Fit and they sign up…. you'll receive a 50% discount off your next month!

Thank You!!!
Adrian Martin
Alisher Makhkamov
Amy Hooper
Brent Taylor
Brittany Smith
Emily Strolin
Eva Aliferis
Evgeniya Murina
Guadalupe Puig
Johanna Fyrvald
July Kennedy
Justine Mackenzie
Letitia Tunmore
Luke O'Connor
Marina Colombo
Melissa Caroll
Michelle Tannor
Rebecca Coleman
Romy Staude
Sarah Lloyd
Siobhan Veale
Tahnae Luke
Trina Edgar
Wishing you the best of health,
Dan Clay
Dangerously Fit
THANK YOU TO OUR SPONSORS…