Winter is finally here… and so far it's been kind to us, hopefully, the good weather continues for a couple more months!It's been a while since my last newsletter…. I've just got back from an extended trip to Spain to see my family, I can't believe it's been 3 years since my last trip, where does the time go?
Here's a picture of the family at my dad's 70th birthday…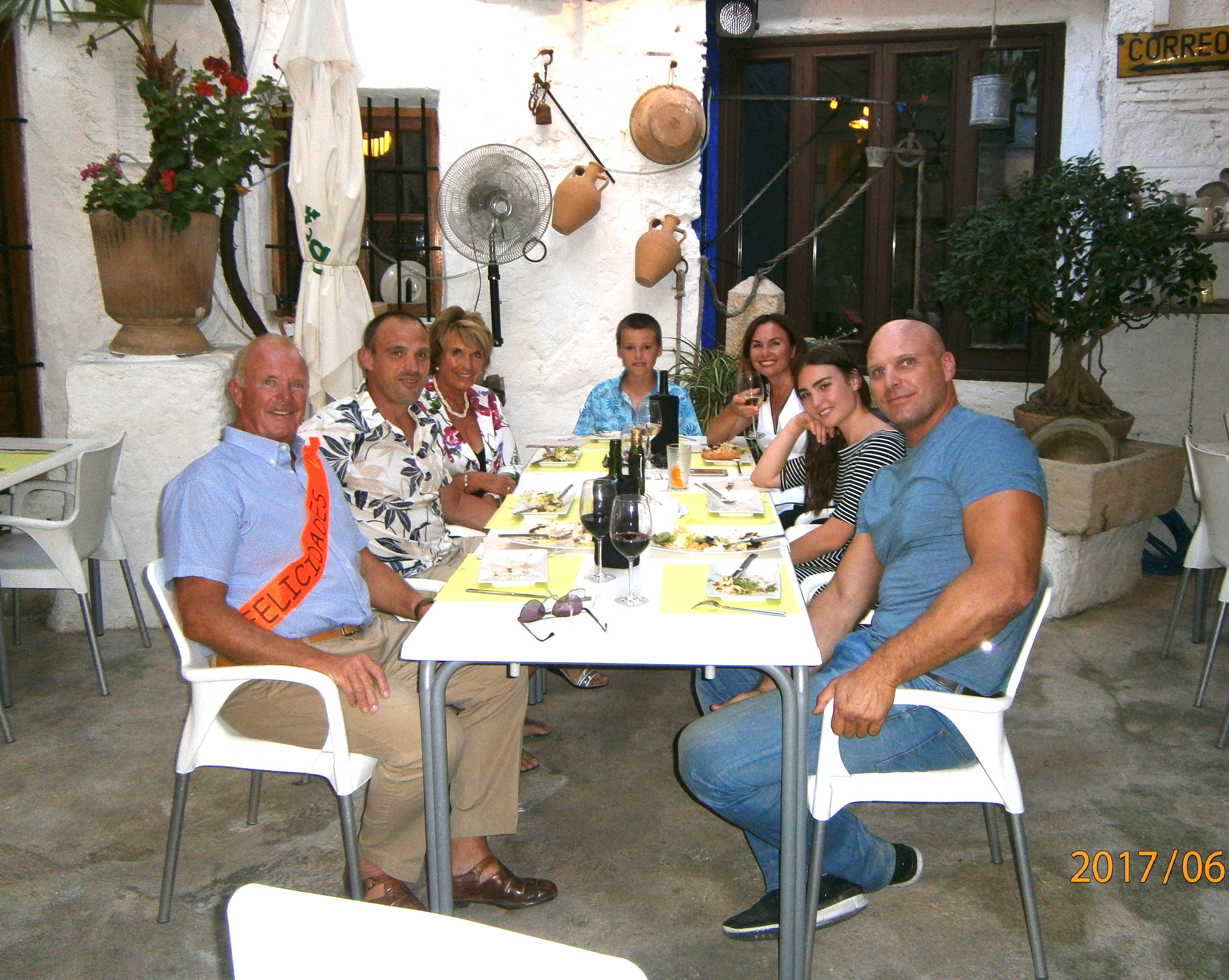 Also… On my last trip 3 years ago I set up the European Personal Training Institute with my brother Toby, so it was great to be able to attend a couple of our courses. One course was held in Spain, the other in Malta.
Kettlebell Training on Denia Beach, Spain…
And at the 24/7 Gym in San Gwann, Malta…
6-Week Body Challenge
In March at Dangerously Fit we wrapped up the summer 6-week body challenge with many excellent results (as usual).
Congratulations to our new 6 Week Body Challenge winners Marianne YM and Marc Michiels.
This awesome couple is an inspiration for everybody.
Marianne, who also won our last 6WB in September losing 9.7kg and 11.93% of her bodyweight, not only maintained those results over Xmas but lost a further 1kg before commencing with this challenge.
In the last 6 weeks, Marianne lost another 7.1kg and 10.03% of her bodyweight. In total, Marianne has now lost 17.6kg and 21.65% of her total body weight since starting her first challenge in late September.
Her partner Marc started this 6 Week Body Challenge at 72.5kg and lost 9.1kg, with a total body weight loss of 12.55%. A fantastic result in just 6 short weeks!
The Winners Will Receive the Following Prizes;
-> Dangerously Fit Boot Camp: 1 Year Membership VALUE $2364
-> Dangerously Fit Equip: Free fitness pack including a kettlebell, boxing gloves, quick wraps & speed rope VALUE $150
-> The Style Consultants: FREE personal styling makeover VALUE $150
-> Awaken: FREE Kinesiology, Aromatherapy or Hawaiian massage VALUE $120
-> Bondi Massage: FREE sports massage or reiki session VALUE $50
-> FREE Dangerously Fit T-shirt VALUE $45
Well done to everyone for completing the challenge, there were so many excellent results that we don't have the room to post them all on here, but here are the top 3 results for the male and female categories;
Female:
Marianne Michiels lost 7.1kg and 10.03% of her total body weight
Katie Finsterer lost 7.8kg and 9.97% of her total body weight
Lisa Kirkwood lost 6.8kg and 8.39% of her total body weight
Male:
Marc Michiels lost 9.1kg and 12.55% of his total bodyweight
David Reynolds lost 9.9kg and 12.07% of his total bodyweight
Adam Perczuk lost 7.2kg and 8.47% of his total bodyweight
Great effort guys!
I look forward to helping you reach your fitness goals in our next 6-Week Body Challenge!
Winter Online Challenge
With the mornings a little darker (and colder)… some of our members have been struggling with motivation to make it to boot camp.
Therefore, we have decided to run an online winter 6-Week Body Challenge that you can do in your own time and in the comfort of your own home.
We'll be sending out more info soon, so keep an eye out for an email from me in the coming days.
Two New Boot Camps Coming to the Gold Coast
This month we have two new boot camps opening on the Gold Coast. One will be in Burleigh Heads, the other in Broadbeach.
If you live on the Gold Coast and would like the same fantastic results our Sydney members have been getting for over a decade, you can secure your spot by emailing [email protected]  or call 1300 557 735 for more information.
DF Photo Gallery
6 Week Body Week 1 in Bondi Beach
6 Week Body Week 2 in Cooper Park
6 Week Body Week 3 in Queens Park
6 Week Body Week 4 in Moore Park
6 Week Body Week 5 at Cronulla Sand Dunes

Bondi BoxFit
Coogee Cross Training
Rushcutters Cross Training
Maroubra Crew
Friday Morning Yoga Class in Bondi
DF Trainers with the Wallabies
Food for Thought…
Dangerously Fit T-Shirt for Sale
Dangerously Fit T-shirts are now for sale, choose your color;
White, Black, Navy, Red, Charcoal, Pink, Sky Blue, Chocolate, Royal Blue, Emerald Green, Purple, Hot Pink
And your size;
Male from S to XXL, Female from 8 to 16
Price : $29.99

Referrals
Lastly…. a big thank you to everyone that referred a friend to Dangerously Fit.
We rely on word of mouth and appreciate you helping us spread the word.
Remember, if you refer a friend to Dangerously Fit and they sign up…. you'll receive a 50% discount off your next month!

Thank You!!!
Alex Shimwell
Alicia Placer
Analia Barrionuevo
Andrew Crestani
Annabelle Scott
April Kern
Brittany Mcarthur
Emily Collignon
Franc Biffone
Lisa Kirkwood
Luisa Stead
Michelle Ng
Nikki Spark
Rachel Rowling
Ruth Douglas
Sarah Alderding
Sinead Craul
Tamara Macdonald
Thea McLean
Thordis Ivarsdottir
Tim Pittaway
Wishing you the best of health,
Dan Clay
Dangerously Fit
THANK YOU TO OUR SPONSORS…