Welcome back from Xmas break, I hope you had some time off to relax and refresh over the holidays.
It's always good to stop and reflect on the past year and to set new goals for the up coming year.
Hopefully you've already set your health and fitness goals and aim to be fitter, stronger and healthier in 2015, if you haven't done so then I recommend you do, there is nothing more valuable than your health!
As usual we'll be kicking off 2015 with a new 6 Week Challenge (with some slight changes) and other new training programs in the pipeline.
So without further ado…
New Summer 6 Week Challenge

The Dangerously Fit 6 Week Challenge will be slightly different in 2015 with members now able to start the challenge at anytime, and with a bigger emphasis being made on tracking of your goals weekly through our online tracker.
The Saturday fat burn classes will be replaced by The Dangerously Fit Workout Of The Week (DF WOW) which will be held in a different Sydney location each week focuses on different training methods i.e hills, stairs, sand dunes etc. The DF WOW will commence on Saturday 7th February.
If you are an active member of Dangerously Fit, the program is free and you can receive the nutrition program, access to the DF 6 Week Body Facebook group and weekly information on our DF WOW by registering at [email protected].
If you are not a member of Dangerously Fit and would like to join us, you can register online here… http://www.6weekbody.com.au/
Spring 6 Week Challenge Results
Congratulations to Jeremy Mohamed and Rebecca Lee Ship our Winners!
Here are a few of the killer results our Dangerously Fit members achieved:
Male:
1st = Jeremy Mohamed lost 12.11% of his bodyweight which is 10.3Kg in 6 weeks
2nd = Simon Ship with 12.01% and 13kg
3rd = Stewart Salazar with 6.4% and 5kg
Female:
1st = Rebecca Lee Ship who lost 8% of her bodyweight which is 6Kg in 6 weeks
2nd = Jules Baker with 6.5% and 4.5Kg
3rd = Patricia Conaghan with 5.9% and 4kg
And all this in just 6 Weeks!!
Again Congratulations to our team winners the Reds from South for winning the team event.
Well done to everyone who completed the challenge, excellent work, lot's of fun and heaps of team spirit, this was a awesome Challenge!
And a few words from our two winners Rebecca and Jeremy…
Rebecca Lost 6Kg in 6 Weeks
Jeremy Lost 10.3Kg in 6 Weeks
Bring a friend Saturday… for all of January!
It's been a while since we've had bring a friend day but it's back in full force… and for the whole of January!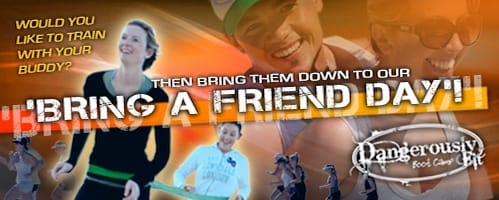 If you have a buddy or spouse that could do with some motivation and a bit of extra training – bring them down to any of our Saturday morning classes for a fun challenging workout. Just be sure to email the office [email protected] before you bring a friend so we can send them the required registration form.
Spartan Race 

Well done to all the DF ELITE crew who completed our 8 week training program and ran the Spartan Race in October.
The next Spartan race will be held at the ANZ Stadium on February 15th. If you would like to enter the event you can register for a 10% discount with this code… DFIT.
Here are some the DF ELITE crew instructing at the recent Spartan Hurricane WOD…
New Facebook pages
Thanks for being part of our Dangerously Fit community hosted on Ning.
To make our social media platforms smartphone friendly and to keep up with the growing popularity of Facebook we have moved our groups over to new Facebook pages.
You will find all the trainer's post (pics of the workout, fitness test results, games and special deal) on the new pages.
All you have to do is hit the "like" button to get the pages updates: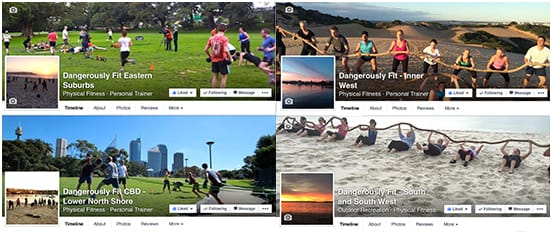 Eastern Suburbs: (Bondi, RB, Queens Park, Coogee and Maroubra)
https://www.facebook.com/pages/Dangerously-Fit-Eastern-Suburbs/713419902074003
Inner West: (Balmain and Sydney Park)
https://www.facebook.com/dangerouslyfitinner
St George: (Morty, Dolls, Carrs Park)
https://www.facebook.com/DangerouslyFitStGeorge
CBD & Lower North Shore: (Domain, Hyde Park and Balmoral)
https://www.facebook.com/pages/Dangerously-Fit-CBD-Lower-North-Shore/1490291737907353
Australia Day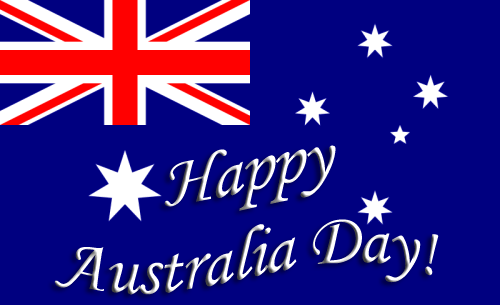 Monday 26th January Australia Day, no class on. Everything back to normal on Tuesday 27th January.
DF Photo Gallery
Dangerously  Fit T-shirt for Sale
Dangerously Fit T-shirts are now for sale, choose your colour;
White, Black, Navy, Red, Charcoal, Pink, Sky Blue, Chocolate, Royal Blue, Emerald Green, Purple, Hot Pink
And your size;
Male from S to XXL, Female from 8 to 16
Price : $29.99
Referrals
Lastly…. a big thank you to everyone that referred a friend to Dangerously Fit.
We rely on word of mouth and appreciate you helping us spread the word.
Remember, if you refer a friend to Dangerously Fit and they sign up…. you'll receive a 50% discount off your next month
Thank You!
Al bazzi
Andrea Carroll
Annie Slattery
Bianca Logan
Caroline Brennan
Chanel Lazarevska
Daisy Kearey
Elizabeth Parsons
Grainne O'Reilly
Jasmin Handakas
Kylie lane
JLay Lay Naing
Lisa Power
Marianne Stipanovic
Michelle Power
Stuart McCann
Vanessa Koop
Dan Clay
Dangerously Fit
THANK YOU TO OUR SPONSORS…
Click Here For Discount Prices