Here are 25 meal ideas for the vegetarians out there…
1. BLAT with Lemon-Basil Vegenaise

Who can resist the classic combination of crispy vegan bacon, lettuce and tomatoes mixed with flavourful veganaise? Simply mix the veganaise with lemon, basil and pepper then proceed to layering the sandwich. This easy-to-make meal is recommended if you're craving for a healthy yet indulging food.
2. Vegetarian Casserole
Getting tired of the same old foods in your diet? Worry no more! This Mediterranean style dish will surely bring a new sense of excitement to your taste buds. The unique blend of various spices and herbs, including peppers, courgettes, lentils, sweet smoke paprika and thyme make this dish desirable for anyone. This can also be served with rice and quinoa.
3. Southwestern Tofu Scramble with Greens
Are you a certified tofu lover? If yes, then this recipe fits you perfectly!
With the right combination of crispy potatoes, tofu, tomatoes, avocado and various spices, this tofu recipe will bring sweet, spicy and sour flavours in your mouth.
4. Vegan Black Bean Tacos
Did you know that the taste of the tacos can still be surprisingly palatable even without meat? Black beans, mushroom, onions, jalapeno, garlic and spices let you have healthy and satisfying tacos. Moreover, black bean is good for your body because it can help in the prevention of cardiovascular diseases and cancer.
5. Squash & Barley Salad with Balsamic Vinaigrette
Upgrade your salad experience! Take advantage of the unique combination of squash and barley in one light salad meal. If you're into different types of vegetable salads, you will be glad that this salad exists! You can serve this as starters or even a healthy snack in between meals.
6. Green Curry Porridge

Are you tired of the same old porridge? This curry based porridge infused with lemongrass and creamy coconut milk will surely increase your appetite. This comfort food is perfect on a chilly afternoon.
7. Quinoa Veggie Burger
Being a vegan doesn't have to be boring. Here's very healthy recipe of a veggie burger that you can easily make at home. Packed with Quinoa, a gluten free grain with high protein, this burger is best for its crunchiness and tastiness that will leave you wanting more.
8. Roasted Vegetables with Lemon-Cannelini Sauce
If you love roasted stuff, have a taste of these combined slow-roasted veggies blended with lemon-cannelini sauce. The variation of flavours from different vegetables present in this dish will surely leave you insatiable. What's good about this recipe is you can always add more vegetable and herbs that will fit to your diet and health.
9. Cauliflower and Chickpea Stew Couscous
Cauliflower and chickpea are the perfect ingredients if you want to have a delectable low fat and low cholesterol dish. The fusion of sweet and nutty taste of this stew will jazz up a simple couscous recipe.
10. Caponata

Craving for sweet and sour food? This Sicilian veggie dish made from aubergines, tomatoes, raisins and ciabatta is a must try if you're looking for a flavourful new dish to eat. The added capers and pine nuts spice up the taste and texture of the dish. Caponata is great as appetizers for your meal.
11. Cabbage with Caraway
This simple 10-minute recipe is recommended for busy moms who often do not have lots of time to cook. All you have to do is boil and drain the cabbage, sautee onions and boiled cabbage in the frying pan. Add caraway seeds to have a refreshing nutty taste.
12. Kale, Black Bean and Avocado Burrito Bowl
What's more nutritious than the combination of veggies, beans and avocado fruit? This hearty, full-flavored meal will help you meet the daily dietary fiber and protein requirement of your body. The next time you shop, make sure to get all the required healthy ingredients of this one of a kind burrito meal.
13. Vegan Shepherd's Pie
For all the potato lovers out there, make sure to do this recipe in your home. Vegan Shepherd's Pie is loaded with creamy mash potatoes, mushroom, sun-dried tomatoes, lentils and crunchy breadcrumbs. This dish is best served with greens on the side.
14. Quick Vegan Chana Masala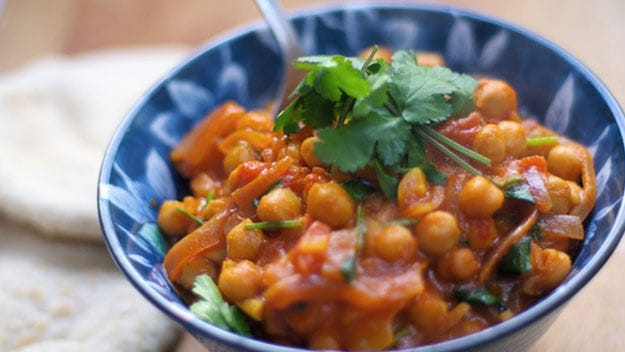 Chana Masala is a popular spicy dish that originates from India. It is the combination of chickpeas, tomatoes and Indian curry called Tikka Masala. If you're new into veganism, this tasty curry dish is a good start for you.
15. BBQ Tempeh Stir Fry
Are you looking for a vegan meal with vibrant colour and taste? The barbeque flavoured taste of this stir fry is good even without meat! Just combine the broccoli, bell pepper, tempeh, tomatoes, mushroom, cabbage and BBQ sauce for a healthy and mouth watering dish.
16. Fish Sliders with Spicy Mango Slaw
Replace your old cabbage coleslaw recipe! This fishless fillet is blended with mango slaw and topped with vegetarian mayo. Enjoy a hearty sandwich in the comfort of your home, this is a fruit and vegetable-packed meal with a spicy new twist.
17. Kimbap (Korean Sushi Roll)
Kimbap is famous rice roll meal in Korea. This delicious and easy to prepare bite size meal can be easily made using seaweed sheet, rice and various veggies. Add tofu for extra flavour or as an alternative for meat.
18. Vegan Philly Cheesesteak
It's time to change your idea of steak. Have a taste of this extraordinary vegan steak sandwich recipe made from beefless tips, onions and spices. This guiltless and cholesterol free steak is a wonderful treat for you and your family.
19. Grilled Mediterranean Veg with Bean Mash
If you are over with pasta and rice vegan meals, bean mashed with grilled vegetable dish is the right one for you. Grilling zucchini, red pepper and aubergine is better than roasting because it reduces the fat content of the food. The aroma and taste of fresh lemons makes this dish very flavourful.
20. West African Peanut Soup
Peanut butter is one of the best filling for sandwiches but did you know that peanut butter can also be a good ingredient for a rich and creamy vegan soup? It is made of peanut butter, tomato paste and collard greens for a heart-healthy and weight friendly meal.
21. Tofu Turkey
Are you looking for a tempting earthy dish for a simple feast or party? This tofu turkey will definitely stand out in your party! It is mixture of tofu, herbs, miso paste packed with different sour fruits to add a zesty flavour. The long preparation time will enhance the flavour and increase the tenderness of the tofu turkey.
22. Ginger Veggie Stir-Fry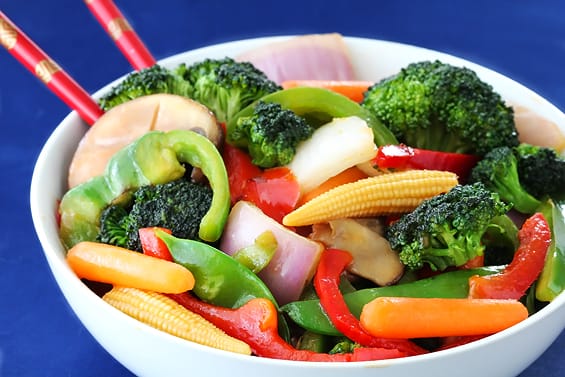 Stir fry meal is a good choice for moms with busy schedules. Simply combine and cook cornstarch, garlic, broccoli, peas, carrots and beans then add soy sauce and water. The added ginger gives a slightly spicy flavour to meal.
23. Savannah's Best Marinated Portobello Mushrooms
Savannah's Best Marinated Portobello Mushrooms is a simple and easy to cook dish made with mushrooms, vinegar, soy sauce and wine. It can serve as a cheap and healthy substitute for guiltless meat dish and is best served with rice and couscous. It can also serve as burger toppings or patty.
24. Vegan Grilled Asparagus Wraps
Fresh grilled asparagus beautifully wrapped with quinoa, onions and vegenaise is a delightful meal because of its unique, delicious filling. Asparagus also contains a lot of nutrients that are needed by the body to fight cancer and heart diseases. What more can you ask for?
25. Three Bean Chili With Spring Pesto
Three bean chili is a meatless, protein rich dish made from chickpeas, cannellini and kidney beans topped with delicious spring pesto sauce. The pesto sauce adds a unique and tangy taste to the beans.
[fergcorp_cdt]